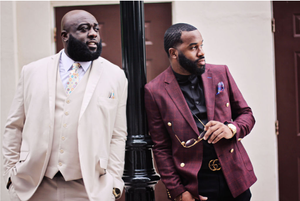 reviews
"

Attended the Pin Point Festival. TGLive was there playing... They were great!! So much energy. We truly enjoyed it!! Will definitely be looking for other places to see this band!!"
— Tammy E.
"

DOPE!! It was an unforgettable experience."
— Karina M.
"

Markeshia Kearse And I love to see family & friends let go and have a GREAT time, So you know it wouldn't have been a true Kearse party with out the live music of TGLive combined with Bernard DuseidaGreat Adusei, the livest wedding rocker in Atlanta! #MK #MeetTheKearses #MrAndMrsKearse #SealedWithAKearse #YouMayKearseTheBride #EveryKissBeginsWithKearse"
— Michael K.
"

This Band is EVERYTHING"
— Vette L.
"

True Entertainers. My Favorite attributes of this phenomenal team is their audience engagement and versatility!! Unbelievable skills and talent!!!"
— Lisha B.
"

One of the baddest, most entertaining bands in Savannah. You've never experienced a jam fest until you experience a TGLiVE kid of party!!!"
— Veronica B.
"

They gave a superb performance in Savannah last weekend. "
— Erika C.
"

OMG!!! I have lived in Savannah for 10 years and frequent Wild Wings regularly....all I can say is TGLive is hands down, the best band I have ever seen down here!!!"
— Heather Laughter-Dyer
"

I had a ball listening to them at The Bohemian. Best band I've rocked to since moving here from Vegas!! Hands down, you are guaranteed a FUNKY GOOD TIME!!"
— Crystal M Neely
"

TG LIVE TOOK OUR JULY 2021 TO THE NEXT LEVEL. WE CAME ACROSS THIS AWESOME BAND IN JUNE 2020 AT THE CITY MARKET IN DOWNTOWN SAVANNAH AND INSTANTLY KNEW THEY WERE THE BAND WE NEEDED FOR OUR BIG DAY. THEIR BOOKING MANAGER DAWN WAS OUTSTANDING FROM START TO FINISH. SUPER PROFESSIONAL AND ORGANIZED. WHEN WE MADE SHIFTS TO OUR CONTRACT THE MONTH BEFORE, DAWN WORKED IT OUT FOR US WITH THE BAND TO HELP US KEEP OUR WEDDING TIMELINE SMOOTH DURING THE COCKTAIL HOUR. WE HAD A HYBRID WEDDING WITH IN-PERSON GUESTS AND GUESTS ATTENDING VIRTUALLY AND EVERYONE WAS DANCING DURING THE BAND'S SET. MY HUSBAND AND I ARE SO SAD WE COULDN'T ATTEND OUR OWN COCKTAIL HOUR TO PARTY WITH THE BAND, BUT WE DANCED IN THE STREET AS WE TOOK OUR PHOTOS NEARBY. THE NEXT DAY, A WEDDING GUEST SHOWED ME VIDEOS OF THE ELECTRIC SLIDE THAT WENT DOWN DURING OUR COCKTAIL HOUR. SEVERAL GUESTS COMMENTED THAT THIS WAS THE BEST BAND THEY HAVE EVER SEEN, ESPECIALLY AT A WEDDING. THANK YOU TGLIVE FOR MAKING OUR WEDDING DAY FANTASTIC. BOOK THEM. DON'T HESITATE. "
— Erin L
"

TGLIVE PERFORMED IN AUGUSTA, GA AND THEY WERE PHENOMENAL. THE VAST RANGE OF SONGS KEPT THE CROWD ENGAGED AND HYPE. WHEN THEY DID THE SET OF JAMES BROWN SONGS, THE CROWD WENT CRAZY!! THEIR ENERGY, ENGAGEMENT, AND TALENT WERE EXCEPTIONAL!!. WHEN THEY COME TO YOUR CITY, YOU MUST CHECK THEM OUT!!"
— Veeta P.